How to sensitively connect tailoring based on a personal approach with a digital experience?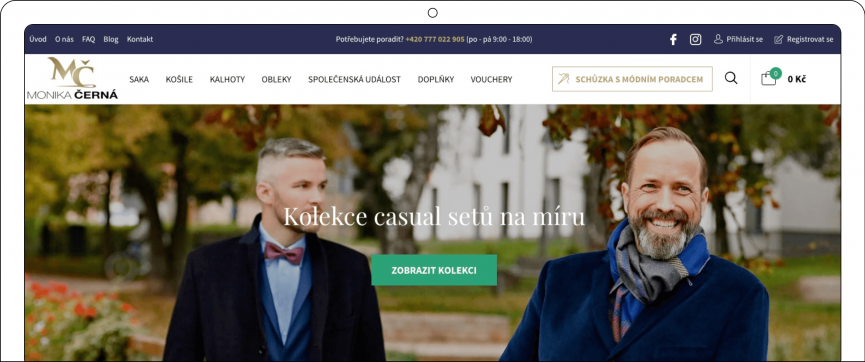 Switching a traditional company online
The MonikaČerná.com e-shop combines the tailoring tradition with modern technologies. After a personal focus, the customer can order any clothing from the business, casual and everyday wardrobe range thanks to accurate visualizations.
Challenge
Our task was to sensitively connect traditional tailoring based on a very personal approach with the digital world, in an environment that will be accepted by even the most demanding clients.
How we proceeded
Solutions
We have transferred hundreds of swatches, various cuts and accessories to the e-shop environment, from which the customer can create clothes according to their imagination. The e-shop is also connected to a tailor-made ordering system for fashion consultants, who can place an order for production on the iPad together with the customer. We have connected the e-shop and the ordering interface to a CRM system that provides a complete picture of each customer.
Result
With the launch of the e-shop, we have enabled Monika Černá Tailoring to serve a significantly larger number of customers without suffering any damage, customer experience and quality for this tailoring.
Client says
I see the launch of the e-shop only as the first step in the transformation of the entire segment, the leader of which we want to become thanks to digital innovations.
Monika Černá
Owner
Case studies
DEVELOPMENT & GROWTH
PROCESSES & OPERATIONS
Internet / Satellite TV provider
Design & implementation of customer care
The use of CRM for marketing and automation
Show more
PRODUCT & STRATEGY
DEVELOPMENT & GROWTH
Personalised Stickers for Kids
Unique configurator & production automation
Central and Western Europe expansion
Show more
DEVELOPMENT & GROWTH
COMMERCE RESULTS
Traditional Moravian Winery
New e-shop design & growth
Development of wholesale zone
Show more
DEVELOPMENT & GROWTH
COMMERCE RESULTS
Santa's Postcard: 50 000 orders in 6 weeks
Complete development of fitted solutions
Czech, Slovak and Polish campaigns
Show more