How we helped Mamalabels become a global player with process automation and unique e-commerce solution?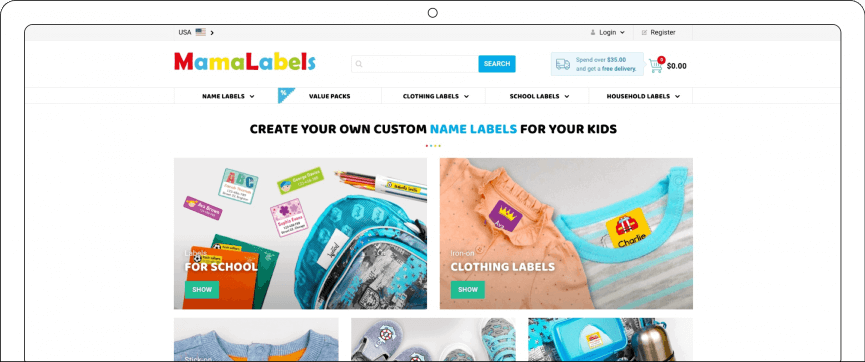 About MamaLabels
In the MamaLabels e-shop, parents can create stickers for children to mark everything from clothes to school supplies, and thanks to which lost things get back to their children. At integritty, we were able to turn the idea into an e-shop with a unique generator and a high degree of automation, within a year and a half to become number one on the Czech market and at the same time successfully expand to the DACH region, Poland and Slovakia.
Challenge
Our initial task was to design the most friendly sticker configurator that parents will be happy to use on their phones. It was necessary to place the entire configurator in the otherwise standard interface of the e-shop and ensure the shortest possible time from creating the sticker to the dispatch to the customer.
And because our work does not end with a submitted e-shop, the most challenging task was to become number one on the Czech market and at the same time successfully expand abroad.
How we proceeded
Great product
We wholly automated the configurator, placed the Prestashop platform's standard environment, so the print data was sent from there directly to specialized printers. From there, the finished stickers were shipped to the customer. We have made many improvements on the configurator since then, thanks to the knowledge from regular A / B tests with the Google Optimize tool.
Continuous optimization & expansion
We have made MamaLabels number one on the Czech market and at the same time an essential player in the very competitive DACH region, mainly thanks to the continuous improvement of existing campaigns and testing many different strategies. The main advertising channels for us were Google and Facebook networks, local media, and targeted activities in specific countries.
Global e-shop managed from the Czech Republic
By completely automating the production of MamaLabels even when sending orders from the Czech Republic, it has reached the speed offered by local competitors in individual countries. Thanks to the localization of the e-shop environment for each country, MamaLabels quickly gained customers' trust, and in addition to the Czech Republic, became a crucial player in highly competitive markets such as Germany.
Client says:
integritty is a partner who has always been by our side. Together with integritty, we have made it from an idea to a global e-shop.
Miloš Holeček
Managing partner
Case studies
DEVELOPMENT & GROWTH
PROCESSES & OPERATIONS
Internet / Satellite TV provider
Design & implementation of customer care
The use of CRM for marketing and automation
Show more
PRODUCT & STRATEGY
DEVELOPMENT & GROWTH
Personalised Stickers for Kids
Unique configurator & production automation
Central and Western Europe expansion
Show more
DEVELOPMENT & GROWTH
COMMERCE RESULTS
Traditional Moravian Winery
New e-shop design & growth
Development of wholesale zone
Show more
DEVELOPMENT & GROWTH
COMMERCE RESULTS
Santa's Postcard: 50 000 orders in 6 weeks
Complete development of fitted solutions
Czech, Slovak and Polish campaigns
Show more